By Wyatt Earp | October 24, 2010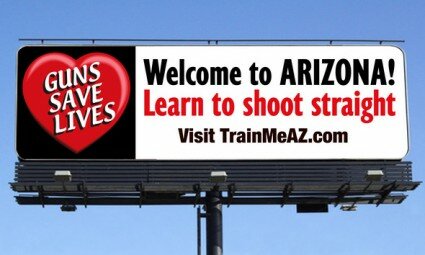 It is inexcusable that something like this would happen in Arizona.
You'd think that with seeing how government is now out of the business of licensing firearms possession in Arizona, the Powers That Be would approve of private entrepreneurs picking up the slack and letting the citizens of Arizona know that proper gun training saves lives. And you'd be wrong:

The city of Phoenix, in an apparently arbitrary move and without formal legal process, has forced CBS Outdoors to tear down 50 illuminated bus-shelter billboards under contract to promote gun safety training for children and their parents. The posters were placed by TrainMeAZ.com, a commercial joint-educational effort of the firearms industry in Arizona, and had been up all over the Phoenix metro area for a little over one week before the city acted.

"The Phoenix attorney's office claimed these were public service announcements, and those are banned," said Alan Korwin, manager of the TrainMeAZ campaign and the Publisher at Bloomfield Press, a sponsor of the program. "It's a bogus excuse — and they know full well we're an LLC and not a non-profit. The commercial sponsors, shooting ranges and trainers on the website expect to attract customers. The ads are aimed at parents, so they can teach gun safety and the values of marksmanship to their kids," he said. "We're promoting a culture of marksmanship, where everyone learns to shoot and understands gun safety."
Read the rest of the insanity here. But you better bring a roll of duct tape.
Topics: Gun Pr0n | 11 Comments »