By Wyatt Earp | October 24, 2010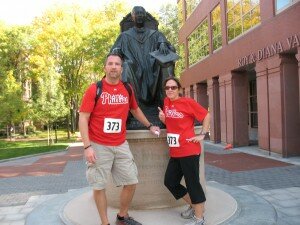 Yesterday, the Urban Dare came to Philadelphia. Urban Dare is like The Amazing Race, where contestants use clues to find certain points – in this case, locations in Center City Philadelphia – and perform feats, or "dares." Every entry is a two-person team, but they can have researchers look up the clues and find the locations listed. The race is timed, and the top three teams receive awards.
Randal Graves, his wife and I did this two years ago, and we placed third out of 40 teams. Naturally, we went at it again this year. Randal and Mrs. Graves did the grunt work, and I was their Chloe O'Brien, working at home with the cellphone and both my laptop and desktop. (I was also keeping an ear out for the kids, as both were napping during the event.)
Randal immediately sent me the clue sheet. As you can see, it was difficult to read, but we made it work.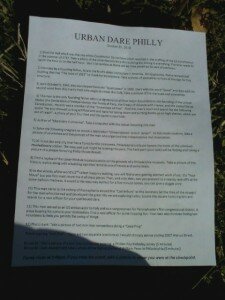 Unlike last time, the clue locations were way out of order. West, then east, then west again. If people went in the order of the questions, they would have walked/run a marathon. I tracked a lot of the clues down early and saw the zigzag route following their order made. I called Randal and let him know. He said our plan was to find the clues as soon as possible, then plan the best route to get to them all. When the location was a landmark, statue, etc, you had to take a photo of the team in front of it – as Randal and Mrs. Graves are seen above on the University of Pennsylvania campus with Edgar F. Smith.
Sometimes the dare had you ask someone else to do something. On the Penn campus, they asked two students to do the necessary leap frog. They happily complied: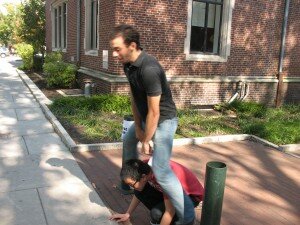 We were cruising until the last few questions. Specifically, I needed to find the name of William Penn's secretary. There is a square in Philly in his honor. Everything I saw named William Markham as the guy, but there is no Markham Square in town. I went to my own Chloe O'Brien, since my Code Monkey doesn't live in town. Mrs. Crankipants looked at the question and said, "James Logan. It's Logan's Square." That was a life-saver. I was expecting something near the river, but Logan Square was close to where the team was at the time. Mega assist from Mrs. C.
To be in the hunt for some hardware, the team needed to finish the event in about two hours. At about 1:30, Randal called and said they got the last clue and were enroute back to the starting point. They were at 6th Street and needed to get to 22nd. They ran. None of us realized until afterward that they could have jumped on the subway for half of that distance. My bad.
Their final time was about two hours, and their total distance covered? 8.53 miles, all of that either walking or running. Yeah, that's why I stay at home in my mobile command center.
In the end, our team took third place. And the winning team was considered "ringers," since they have been doing Urban Dares across the country this year. Third place out of 124 total teams? Not half bad.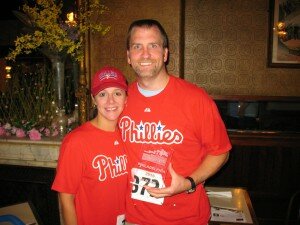 Hopefully, we'll win this thing next year.
Topics: Coolness! | 11 Comments »