By Wyatt Earp | August 1, 2010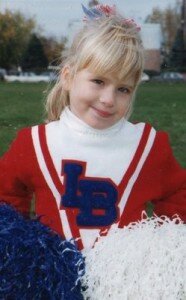 Today is my sister Allison's 25th birthday. As such, I am putting up her annual birthday post – mostly because she asked about it when I called her this afternoon. I am convinced this is the only day she reads the blog, which is a shame because since my parents both worked odd hours, I practically raised the girl. You would think that I would be getting heaps of praise and expensive birthday presents every year. Not so much. Heh.
Any hoo, I'm posting the photo of her above because this is when she was cute, and not the money-borrowing, stress-inducing adult she is now. I'll post an up-to-date pic of her when she graduates nursing school. That starts shortly.
Okay, in all seriousness, I love the girl, and was very proud of her when she graduated college and decided to enter nursing school. I will be even more proud of her when she graduates. Nurses make a fortune, and I'll need someone to take care of me financially when my kids realize I'm a loser.
Until then, enjoy your day, Al!
Topics: Uncategorized | 8 Comments »