By Wyatt Earp | July 30, 2010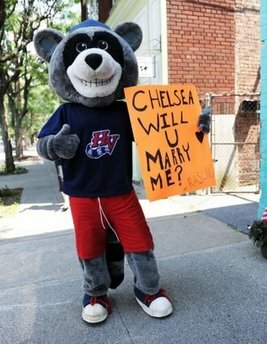 Chelsea Clinton Chaser Caption Contest
(Source: )
Submit your caption to this pic in the comments section or e-mail me your photoshop entries.
The winners will be posted on Monday, August 2nd. Good luck!
Original Caption: A mascot from the Hudson Valley Renegades baseball team holds a sign on East Market Street July 28 in Rhinebeck, New York, where Chelsea Clinton and Marc Mezvinsky are to be married July 31.
Other Current Contests:
Family Security Matters
Military Times
Rodney Dill
RT's Ponderings
Target Rich Environment
Wizbang
Top Three Entries:
3. A 'coon lookin for poon. – Smite A. Hippie
2. I could be wrong, but I think this varmint is referring to Chelsea Lately! – Uncle Ray
WINNER! – P.S. That's not my tail. – Kaveman
Topics: Caption Contest | 13 Comments »