By Wyatt Earp | March 24, 2010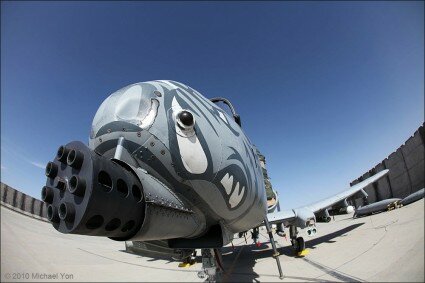 If I've said it once, I've said it a thousand times: Warthogs. Kick. Ass.
Lieutenant Colonel Eric Murphy is an A-10 pilot from Baltimore. In his day job, "Captain" Eric Murphy is a commercial pilot who flies A320s but today he's not flying British tourists traveling within the United States. He's going to Helmand Province to cover the British "Royal Welsh."

Today, Lt Col Murphy's 30mm cannon is loaded with 1,150 rounds. The 30mm can destroy tanks, but believe it or not, typically will not penetrate the walls around Afghan homes. When the 30mm fires, it's almost unbelievable. The bullets don't fly in a laser-like stream, but sort of spray in a lethal mist, as if the cannon is shot-painting a swath with huge bullets. If the enemy is in the open, the cannon is like a weapon of mass destruction. When people are hit with M-16 bullets, the wound is often more like a couple small holes, but when bodies get hit with weapons this large, they fly in pieces.

A-10 cannons are tilted down so that the pilot can fly level while strafing. This is important: In Mosul, in 2004, an F-14 was strafing downtown after a massive truck bomb in December and many other bad surprises (I was not there), and the pilot told me he was fixated on the target. Since the F-14 cannon is tilted up for "Top Gun" air combat, the pilot had to nose down the F-14 and was diving straight into the target and nearly crashed. The hard turn to avoid crashing damaged his aircraft and the pilot had difficulty landing on the aircraft carrier later that night. Since the A-10 gun is tilted down, it can fly level and strafe without accidentally crashing into the target.
Warthogs have a special place in my family's heart. They fly over our home a few times a week, back and forth from their base at Willow Grove NAS. They are easily Kyle and Erik's favorite aircraft, and it's good to see they are making a difference in Afghanistan.
Topics: The Troops, War On Terror | 13 Comments »