By Wyatt Earp | February 25, 2010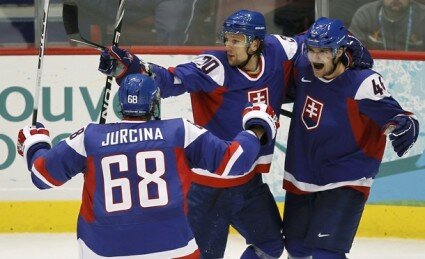 WHOO HOOOOOOOOOO!!!
I don't know if you folks are sick of hearing about Slovakia yet, but if you are, tough. We beat Sweden tonight by a score of 4-3, and for the first time ever, we're going to the semifinals! Gratulujem!
VANCOUVER – Sweden's defense of Olympic gold is over.

Pavol Demitra scored one of the three goals for Slovakia in the second period as his speedy team held on to beat the slow Swedes 4-3 Wednesday night. Nicklas Lidstrom, who scored the winning goal at the Turin Games, took the last shot, but Jaroslav Halak stopped it in the closing seconds.

The Slovaks will face Canada on Friday night in the semifinals for a spot in the gold-medal game.
Okay, I realize that we have almost no chance against Canada, but we'll definitely give them the fight of their life.
Topics: Ice Hockey, Slovakia | 3 Comments »