By Wyatt Earp | February 18, 2010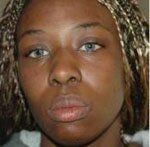 Remember Crystal Gale Mangum, the accuser in the alleged Duke lacrosse rape case? Well, she's back in the news again, and this time she won't be signing copies of her memoir or falsely accusing college students of despicable crimes. This time the spotlight is all on her.
Charges of arson and attempted murder will do that to a person.
Durham, N.C. — Durham police arrested Duke lacrosse accuser Crystal Gale Mangum, 33, late Wednesday after she allegedly assaulted her boyfriend, set his clothes on fire in a bathtub and threatened to stab him.

Authorities charged her with attempted first-degree murder, five counts of arson, assault and battery, communicating threats, three counts of misdemeanor child abuse, injury to personal property, identity theft and resisting a public officer.
I think the best Mangum can hope for is to have Mike Nifong as the prosecuting attorney. Otherwise, she's screwed. Heh.
Topics: Evil = Funny | 11 Comments »