By Wyatt Earp | January 10, 2010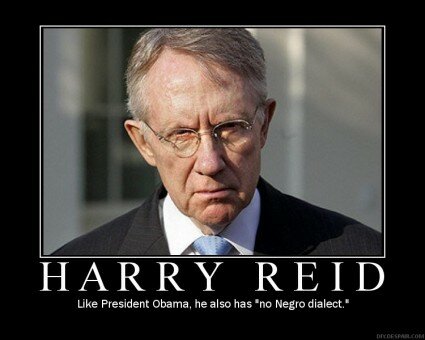 Too strong? Maybe, maybe not:
It was just last month that Dingy Harry Reid likened Republicans who oppose the government health care to proponents of slavery.

Who's the real RAAAAAAACIST?

The top Democrat in the U.S. Senate apologized on Saturday for comments he made about Barack Obama's race during the 2008 presidential bid and are quoted in a yet-to-be-released book about the campaign.

Senate Majority Leader Harry Reid of Nevada described in private then-Sen. Barack Obama as "light skinned" and "with no Negro dialect, unless he wanted to have one." Obama is the nation's first African-American president.
Question: Did Reid apologize because he was sorry, or because he is facing a difficult re-election campaign? You make the call . . .
Michelle has some interesting exit questions as well:
Tea Party-basher Janeane Garofalo and her ilk spent the last year lambasting conservatives as racists. Where are they now?

Question 1 : Will the Washington Post devote as much ink to Reid's racial comments as they did to George Allen's "Macaca" moment?

Question 2: Trent Lott resigned his leadership post over his birthday party pandering in praise of Strom Thurmond's racial segregationist presidential platform. Many conservatives (myself included) put pressure on him to resign. Where are the "progressive" Democrats who will apply the same standards to Reid?
My answers?
1. Garofalo will simply tell everyone Democrats cannot be racists.
2. Considering the offender here, the Post will brush this story off and never mention it again.
3. Those "progressive" Democrats will get to Harry right after they address the thorny Senator Robert KKK Byrd issue.
Topics: Politics | 12 Comments »