By Wyatt Earp | January 7, 2010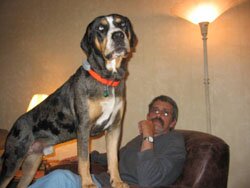 My frequent commenter, fellow Penguins fan and blog friend Right Wing Prof lost his battle with cancer this morning. Xopher posted this comment on the Prof's blog:
My beloved companion and dearest friend fell asleep in the Lord at 1:45 this morning, after a short struggle against an overwhelming foe, with the sweet acceptance that has characterized his gallant witness through this entire ordeal.

His brother Jan, sister-in-law Phyllis, and I were holding his hands at the moment of death.
It is no great understatement that the news is devastating.
I first met Clay Bond in person on July 23, 2007, when a few of us – including Sebastian and Bitter – met at Geno's Steaks for lunch. I almost missed the opportunity. You know how you sometimes have a mental picture of someone that is completely different from the real picture? Well, that was the case that day. I had never seen a photo of the Prof before, and while I was walking around Geno's looking for him, I walked right by without even knowing it. After searching for a bit, I decided that I would just go to the car and hope for the best. Thankfully, he and Sebastian saw me and flagged me down. I'm glad they did.
Clay was the exact opposite of what I expected. I pictured a tweed jacket with patches on the sleeves, flawlessly coiffed hair, and the perfect manicure. Instead, I got facial hair, tattoos, and more gun knowledge than more Marines.
Thankfully, I got the latter.
That day at Geno's is one that I will always remember. The four of us talked and laughed for a few hours, and Clay gave me a parting gift: Season 1 of Sleeper Cell on DVD. I was very appreciative, but Clay dismissed it as nothing. That is the kind of person Clay Bond was. Thoughtful, kind, and selfless.
In the two and a half years since, we e-mailed each other frequently, discussing the Penn State/Michigan rivalry, the Steelers, politics, and the occasional link to a good news story for each others' blogs. About a year ago, he asked me why I was such a big hockey fan. I used that as an opening to really expose him to the sport. Clay took in a few Penn State games and started following one of my favorite teams, the Pittsburgh Penguins. I would beam with pride when he would send me an e-mail talking about "that awesome game" Sidney Crosby had. While Indiana basketball and Steelers football were first in his sports heart, the Pens earned their place there as well.
He read SYLG often, and commented frequently – sometimes to my embarrassment. When I posted about my skin cancer, he seemed more concerned with my dinky little basal cell issue than his own battle with lung cancer. Again, selfless.
I never posted about this, but I drove out to see Clay on November 20. It was something I simply had to do, and I am glad I did. When I walked into his room, he looked at me and smiled. Pointing to his dry erase board, I saw a list of visitors for the day. There were a few names there, and at the bottom of the list was a large WYATT! It was enough to make me well up.
After we exchanged pleasantries, he asked me, "Wyatt, why the hell did you drive all the way out here?" I looked at him and realized that he was serious. He thought I was insane. Instead of getting all emotional, I went into sarcastic mode and replied, "I'm here to kick your ass out of bed, and if you don't beat this soon, I'm bringing the SWAT team, MP-5s and flash-bangs."
I was fortunate enough to spend four hours with him and his son – a terrific person, by the way. I also met Father Alexander, the man who brought Clay back to the Orthodox Church and a few of Clay's caregivers. When it was time to go, I told him that he better keep fighting, and I would try to visit again soon. Sadly, I will not get the chance.
The drive home was a sad one. I cried for a while and was only comforted by the fact that Clay's faith kept him strong. He had a terrific support system and was surrounded by family and friends until the end. I am confident that he is with God now.
I apologize of this post is all over the place, but I'm just in stream-of-consciousness mode. In honor of Clay Bond, the Right Wing Prof, there will be no other posts today.
Topics: , Cancer | 37 Comments »