By Wyatt Earp | December 29, 2009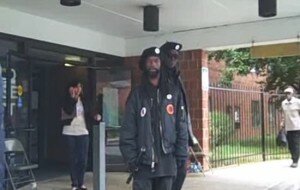 You may remember this story from Election Day, when Black Panthers intimidated voters at a polling location in Philadelphia. You may also remember this story, where Attorney General Eric Holder dismissed all charges against the Black Panthers, even though there were several eyewitnesses and video evidence. I guess because the Panthers were demanding people vote for Obama, it wasn't technically "intimidation."
Well, the Justice Department voting rights chief who signed off on the original intimidation charges is a man by the name of Christopher Coates. And guess what? He was just transferred from Washington to South Carolina.
William Teach has the details of the curious story:
I'm sure the transfer was just routine, and had nothing to do with the case, and this was not about retaliation, right? Right? RIGHT?

The veteran Justice Department voting rights section chief who recommended going forward on a civil complaint against members of the New Black Panther Party after they disrupted a Pennsylvania polling place in last year's elections has been removed from his post and transferred to the U.S. attorney's office in South Carolina.

Justice Department officials confirmed Monday that Christopher Coates, who signed off on the complaint's filing in federal court in Philadelphia in January accusing the party and three of its members of civil rights violations, would begin his new assignment next month.

Coates was one of the people involved in the Black Panthers case who was told by the DOJ to not cooperate with the CRC investigation.
This may just be a run-of-the-mill transfer. Thus far, Coates has not commented. It is interesting that Coates is transferred seven months after the case he signed off on was summarily dismissed by the administration.
Topics: Philly, Politics | 15 Comments »