By Wyatt Earp | November 6, 2009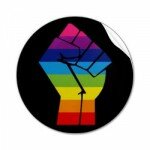 There's nothing that brightens my day more than hearing about people who truly appreciate and respect the American democratic process. One person, one vote, and to the victors go the spoils.
Of course, some Left-wingers believe that there is nothing more democratic than threatening those who didn't vote along their lines.
Just like the anti-Prop. 8 mob in California, the left-wing mafioso in Maine are targeting Americans who oppose gay marriage. Where are all the civility police to decry the climate of hate?

Voters on Tuesday repealed the state's same sex marriage law after an emotionally charged campaign that drew large numbers to the polls and focused national attention on Maine.

…"In a defiant speech to several hundred lingering supporters, No on 1 campaign manager Jesse Connolly pledged that his side "will not quit until we know where every single one of these votes lives."" (H/T – Michelle Malkin)
Stay classy, liberals! Personally, I am not for gay marriage, but I fully support civil unions. It's just my opinion. That being said, if Pennsylvanians voted on this issue and it passed, I wouldn't cry foul afterward. It's how the electoral system works, and while it is not perfect, it is the best system you're going to find on Earth.
Topics: WTF? | 9 Comments »