By Wyatt Earp | November 24, 2009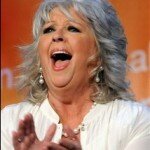 Celebrity chef Paula Deen has proven once and for all that pigs can fly.
Now, I'm not a professional chef, but I do have some common sense. That being said, if I were helping unload hams, the first thing I would do was keep my eyes open for some airborne swine.
But that's just me.
ATLANTA – Celebrity chef Paula Deen got an unexpected serving of ham — across her face.

The Food Network star was helping unload 25,000 pounds of donated meat for an Atlanta food bank on Monday when someone threw one of the hams like a football and accidentally smacked her.

Deen tells WGCL-TV: "I thought it busted my lip, but it didn't." ()
Drivers, start your snark! I'll begin:
5. Serves Deen right for putting pearls before swine.
4. Immediately after being struck, Paula squealed like a pig.
3. Deen would have caught the item if she weren't so ham-handed.
2. Sadly, Paula was the victim of a drive-by hamming.
1. Deen claimed she had never been porked so hard.
Topics: Snarkasm | 11 Comments »