By Wyatt Earp | August 30, 2009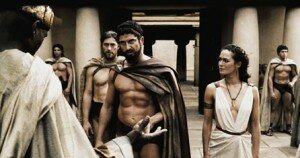 And just like Sparta, weight loss is a difficult foe to defeat. Except of course, if you're me. I don't know how the hell it happened, but I gained no weight during my vacation. None.
And I jumped off the Weight Watchers wagon for the two weeks, too. I pretty much ate what I wanted and figured I would worry about the consequences when I got back. The only real exercise I had was swimming and riding boogie boards in the ocean, but that's it.
After waking up today, I was dreading stepping on the scale, but when I did, I saw this staring back at me:

201 Pounds
Yeah, I don't get it either, but I'm not complaining. Pretty soon I'll fit into my "300″ costume . . .
Topics: Weight Loss | 7 Comments »