By Wyatt Earp | August 14, 2009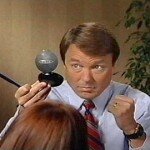 Good grief, this guy makes me look like a rank amateur!
If Elizabeth Edwards has any sense, she should pull a Jenny Sanford – pack up and leave her husband right away. Of course, Elizabeth should probably castrate John before packing away her fingernail clippers, but that's her choice.
And so, more than a year after Silky lied his ass off on ABC about the baby not being his, he's finally ready to come clean. How appropriate that the Enquirer, which dragged big media to this story kicking and screaming, apparently forced the final revelation with yesterday's report on a secret DNA test confirming paternity. WRAL TV in North Carolina delivers the coup de grace:

Sources have told WRAL News that they expect former U.S. Sen. John Edwards to admit that he is the father of his former mistress' 18-month-old daughter.

Edwards, a two-time Democratic presidential candidate, confessed last August to having an affair with Rielle Hunter, who served as a videographer on Edwards' 2008 campaign. He has denied fathering her daughter, saying his relationship with Hunter ended before the child was conceived…

A federal grand jury is investigating whether Edwards' campaign funds were illegally paid to Hunter to keep quiet about the affair… (H/T – Hot Air)
Ya know, if Edwards plays his cards right, this could propel him to super-stardom within the Democrat community.
Oh wait a minute. Democrats only worship politicians who spill their seed on an intern's dress. My bad.
Topics: Evil = Funny | 7 Comments »