By Wyatt Earp | August 14, 2009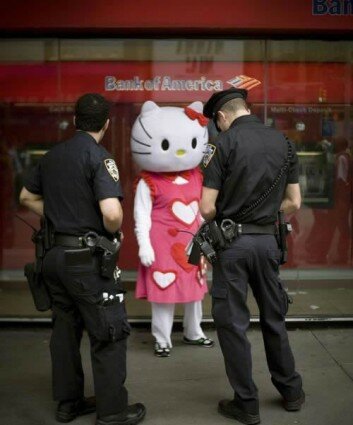 Here, Kitty, Kitty Caption Contest
(Source:
Break.com
)
Submit your original caption for this photo in the comments section. The winners will be announced on Monday, August 17th. Good luck!
THE WINNERS!!!!!!!!!
10. AJ Lynch Says:
While on duty, Wyatt is smitten and hastily fills out a Valentine's card.
9. Jon Brooks Says:
Officers Johnson and Johnson blatantly use 'animal' profiling on a hapless victim.
"It'sssssss not fairrrrrrrr", she hissed. "I don't want this town going to the dogs."
8. Maggie Mama Says:
First they didn't recognize Bob Dylan, now the same two young officers ask Cat Ballou for her ID.
7. Sully Says:
I swear its medicinal catnip officer.
6. Mrs. Crankipants' Photoshop
5. Deathlok Says:
Police used the new Bakugan restraints to foil the Japanese Anime Burgler.
4. B.C. Says:
"Once again, Officers Kojak and O'Malley stopped p*ssy from being peddled on the streets of Meow York City."
3. John D Says:
Sadly, only the Cartoon Channel showed up to film the subsequent perp purrrp walk.
2. Rodney Dill Says:
Sorry it's a $200 fine for catlitterin'
This week's winner is. . .
1. Randal Graves Says:
"Hello Prostitute"
Photoshop Entries:
Other Current Contests:
Blonde Sagacity
Cowboy Blob
Family Security Matters
First In
Rodney Dill
RT
Topics: Caption Contest | 27 Comments »