By Wyatt Earp | May 26, 2009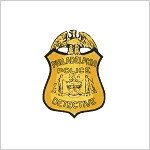 When working in one of the busiest detective divisions in Philadelphia, one would assume that the worst people to deal with would be the criminals. This is not always the case. Sadly, the worst people to deal with are the arrogant, rich, uber-liberal residents of Chestnut Hill. Most of these people do not like police officers because we spend our days harassing poor, misguided youths who just need a stern talking to.
Sometimes, their entire outlook changes when they are a victim of a crime – but not always. Take, for example, this conversation I had with one of these folks today:
Me: "Detective division, may I help you?"
Mommy: "Yes, I am calling on behalf of my son. He wants to know how he can drop the charges."
Me: "Well, he cannot drop the charges until he goes to court. He will have to tell the judge that he does not want to go through with the prosecution."
Mommy: "Oh dear. That means he will have to take off from work. Isn't there an easier way, like writing a letter or something?"
Me: "Uh, no ma'am. The judge will have to hear it from him."
Mommy: "Okay. My son wants to drop the charges because he found out that the person who stole from him was on probation. He doesn't want the person to go to jail."
(Cue the sound of my head exploding.)
Me: "You realize, ma'am, that if he drops the charges because he feels sorry for him, and the person ends up shooting or killing someone . . ."
Mommy: "Oh, I didn't think about that, but I mean, it is only a theft."
Me: "Every career criminal starts somewhere, ma'am. Today it's theft, tomorrow it's rape. But hey, he can do what he wants, right?"
Mommy: "Um . . . Well, thank you for your help, detective."
That truly sad part of this story is that Mommy's liberal hippie son will still drop the charges. The toad will be set free to prey on the citizens of Philadelphia, all because this dope feels sorry for him.
Ain't life grand?
Topics: True Detective Stories | 14 Comments »