By Wyatt Earp | December 6, 2008
Well, Julia came home yesterday to a captive audience of three brothers and two grandparents. I picked her and the missus up from the hospital and drove home – very slowly – at noon. When we got her settled in my car, I wanted to put on Rush Limbaugh to get her started on the conservative track, but cooler heads prevailed and we listened to the local "All Christmas Songs, All The Time" channel.
Julia's first exposure to music was "Simply Having a Wonderful Christmastime" by Paul McCartney. I would have preferred The Waitresses' "Christmas Wrapping," but what are you gonna do?
Anyway, we got home safe and sound, and settled Julia in to Casa de Earp. The boys were ecstatic to see her, which was good because we were worried some jealousy would abound. In fact, it already had the makings of a perfect day . . .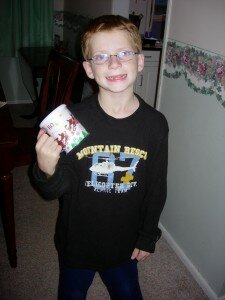 Earlier in the morning, I attended Parent-Teacher conferences at Kyle's school. It was the first time I met his teacher, and since the wife was still in the hospital, I stepped up. You know your kid is well-behaved when the teacher says, "I'm sorry you had to come down here today. I have nothing but good things to say about Kyle." His report card was terrific – "Outstandings" and "Very Goods" in every category, but I wanted to make sure he wasn't a behavior problem. According to his teacher, he isn't. Personally, I don't care if he raises a little Hell at home, as long as he is all business at school. That's Rule #1.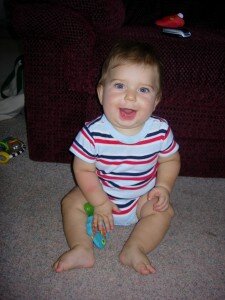 Kevin took to Julia pretty well, too. Although he towers over her – he is also crawling now – and wants to grab her and pull her to him, he is not showing any signs of jealousy, either. We are making a point to spend as much time with all four kids as possible. It's easy when they're so cool.
So, yesterday had the makings of a perfect day . . . almost.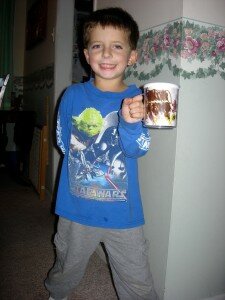 Erik had been fighting the sniffles for the past two days. I kept him home from school yesterday because I didn't want any of his classmates getting sick. he fought me tooth and nail on it, but I wouldn't budge. I didn't want to be "that" parent – the one who sends their kid to school with Bubonic Plague.
Any hoo, an hour or so after Julia came home, Erik sprouted a fever of 102. Then the runny nose. Then he ran upstairs to the bathroom . . . and vomited on the floor. Missed it by that much. It was terrible because I knew he was suffering and there wasn't anything we could do for him. I took Erik and cleaned him off while the missus cleaned the bathroom floor – her decision, before I get the hate mail. I turned to her afterward and said, "Welcome back."
Erik slept for the rest of the night and will be a game time decision for a birthday party he and Kyle are scheduled to attend this afternoon.
So, how was your day?
Topics: The Boys, The Girl | 11 Comments »