By Wyatt Earp | September 13, 2008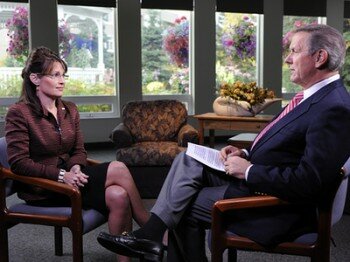 Wow, I am shocked and appalled. /Snark.
A transcript of the unedited interview of Sarah Palin by Charles Gibson clearly shows that ABC News edited out crucial portions of the interview that showed Palin as knowledgeable or presented her answers out of context. This unedited transcript of the first of the Gibson interviews with Palin is available on radio host Mark Levin's website. The sections edited out by ABC News are in bold.

We see that Palin was not nearly as hostile towards Russia as was presented in the edited interview:

GIBSON: Let's start, because we are near Russia, let's start with Russia and Georgia.

The administration has said we've got to maintain the territorial integrity of Georgia. Do you believe the United States should try to restore Georgian sovereignty over South Ossetia and Abkhazia?

PALIN: First off, we're going to continue good relations with Saakashvili there. I was able to speak with him the other day and giving him my commitment, as John McCain's running mate, that we will be committed to Georgia. And we've got to keep an eye on Russia. For Russia to have exerted such pressure in terms of invading a smaller democratic country, unprovoked, is unacceptable and we have to keep…

GIBSON: You believe unprovoked.

PALIN: I do believe unprovoked and we have got to keep our eyes on Russia, under the leadership there. I think it was unfortunate. That manifestation that we saw with that invasion of Georgia shows us some steps backwards that Russia has recently taken away from the race toward a more democratic nation with democratic ideals. That's why we have to keep an eye on Russia.

And, Charlie, you're in Alaska. We have that very narrow maritime border between the United States, and the 49th state, Alaska, and Russia. They are our next door neighbors.We need to have a good relationship with them. They're very, very important to us and they are our next door neighbor. (H/T – Newsbusters)
There are plenty more examples listed in the piece, including key edits and omissions about Russia, Iran, NATO, and the War on Terror. These edits were clearly designed to make Palin look poorly. Instead, it is another clear example of media bias that has become all too common during this election.
A lot of conservatives and McCain backers are angry that Gibson kept giving Palin tough questions. Me? Not so much. I think the candidates should be getting the tough questions, because they tell us a lot about the person's character. My issue is with the apparent double-standard between the Palin interview – who is only running for VP – and Gibson's Obama interview, where the candidate faced such tough questions as, "And finally your daughters. What did they say to you? Did they take it as a matter of course that Daddy could be nominated to be president?"
Please.
Topics: Politics, Snarkasm | 9 Comments »