By Wyatt Earp | July 27, 2008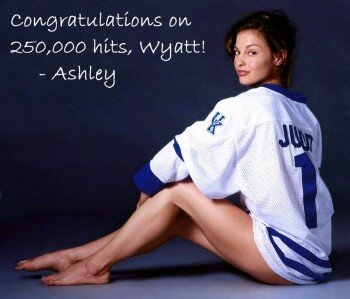 Support Your Local Gunfighter received its 250,000th hit this afternoon.
Wow. That's a quarter of a million hits in just over three years. Suffice to say, it's pretty damned humbling, especially for some loser who can barely put a sentence together.
I'm still not sure why you folks stop by and read this drivel, but I can never thank you enough for doing so.
Wyatt
(By the way, visitor #250,000 came in from the Leon County School District in Florida.)
Oh, and a note to my ice hockey team. I am sorry I cannot make tonight's game, but I give you this fabulous hockey-themed photo of Ashley Judd for good luck. Kick ass, boys!
Topics: Site News | 13 Comments »