By Wyatt Earp | May 18, 2011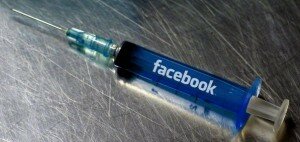 Loyal readers know that I despise Facebook. I equally despise Facebook abusers. Sadly, more and more of them are popping up every day.
Hopefully, none of them are as bad as this couple:
An Israeli couple likes Facebook so much that they named their newborn daughter "Like." You know as in the like icon on the popular Palo Alto-based social-networking site.

"To me it is important to give my children names that are not used anywhere else, at least not in Israel," the father told the German Press Agency dpa."If once people gave Biblical names and that was the icon, then today [the Like] is one of the most famous icons in the world."
Morons. They should have their name-giving privileges revoked.
It's Wednesday, so here's a (sad) Humpday History Highlight:
On the evening of May 18, 1980, Ian Curtis, lead singer and lyricist of the British group Joy Division, hangs himself in his Manchester kitchen. He was only 23 years old. Though he concealed his condition from his band mates until he suffered a major seizure in their tour van following a gig in London in December 1978, Curtis was an epileptic. Some have speculated that depression over his medical condition or the side effects of the medications he took to control it led to Curtis's suicide.

There are many other factors that may have played a role, however, from Curtis's drug use to the strain on his marriage brought about by his affair with a Belgian journalist. Whatever his reasons, Ian Curtis took his own life just two days prior to Joy Division's planned departure on a potentially career-changing tour of the United States. Two months after Curtis committed suicide on this day in 1980, the surviving members of Joy Division fulfilled a promise they'd made to one another by retiring their group's name and continuing on through the 1980s under the name New Order.
I have always loved Joy Division/New Order's music. This is one of my faves:
Topics: HHH | 10 Comments »