By Wyatt Earp | January 7, 2011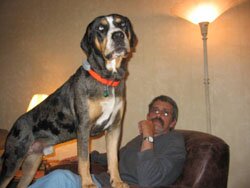 One year ago today, at this very moment, my friend and fellow blogger Clay Marc Bond lost his battle with cancer. Longtime readers will know Clay as the Right Wing Prof. The nickname was a reference to his chosen profession, as he was a professor of business at both Indiana University and at Penn State University. I first met him in 2007 during a blog meet with Sebastian and Bitter. That day at Geno's Steaks is one that I will always remember. The four of us talked and laughed for a few hours, and Clay gave me a parting gift: Season 1 of Sleeper Cell on DVD. I was very appreciative, but Clay dismissed it as nothing. That is the kind of person Clay Bond was. Thoughtful, kind, and selfless.
We e-mailed occasionally and commented on each other's blogs, and I am very proud of the fact that I helped him become a Pittsburgh Penguins fan. Of course, he tried to make me a Penn State fan, but I told him there was no way in hell. So, he just ripped my Michigan Wolverines at every turn.
He was good like that; making people laugh and feel at ease. He would let me know if I had a particularly interesting post, and while I would always disagree, I knew it wasn't butt-kissing. Clay would say something like, "You had this great post the other day . . . " and I would interrupt with something along the lines of, "You're drunk!" Clay would counter with, "Well, it wasn't that good, but . . ." It always made me smile.
He found out about his cancer in late-October, 2009. It was Stage 4 Lung Cancer – the worst – and it spread to his spine. He passed away less than two months later. I was lucky enough to see him in November, and I'm thankful that I visited him in the hospice. To be honest, the more time passes, the more I forget. I can't remember some of the funnier stories. I can't remember some of the specific posts he wrote. I can't remember as much about Clay as I want to, and it's devastating. I know I'll never forget the man, but I'll never remember enough, you know? It's not fair.
Wow, The Prof would probably kick my arse for such a weepy post, so I will end it on a positive note. Clay's friends know he was a fantastic cook, and many of his recipes were submitted to Tastebook. You can check them out by clicking here, and you can buy the book and/or sample some of the recipes at the page.
I miss you, Clay, but I take comfort in the fact that you are at peace with the Lord.
(Sebastian has a terrific tribute at Snowflakes in Hell.)
Topics: Cancer | 17 Comments »