By Wyatt Earp | November 14, 2010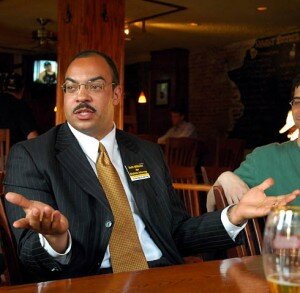 Regular readers know the disdain I have for the Philadelphia court system. The court personnel treat the criminals better than the cops, the judges are notoriously lenient, the prosecutors are always more willing to make a deal than try a case. It was bad when Lynne Abraham was the District Attorney, but she had the best intentions.
New D.A. Seth Williams? Not so much.
[I]n a sweeping move to lower Philadelphia's staggering tally of 47,000 fugitives, top court officials have quietly dropped criminal charges against more than 19,000 other defendants who skipped court years ago.

At the urging of Pennsylvania Chief Justice Ronald D. Castille and District Attorney Seth Williams, Philadelphia judges closed criminal cases and canceled fugitive bench warrants for thousands of accused drug dealers, drunken drivers, thieves, prostitutes, sex offenders, burglars, and other suspects. The withdrawn cases date to 1998 and earlier.
19,400 fugitives just got their slates wiped clean, courtesy of Seth Williams and Ron Castille. I wonder what the victims think about this?
But hey, it's just a few petty criminals and sex offenders that are getting dismissals. No violent criminals are getting off, right? Wrong:
Another fugitive, Alfred Carter, who fled in 1989 before he was sentenced for a strong-arm robbery, is now living in Washington. His conviction was set aside in an attack in which he admitted he left his victim dazed, weeping, and bleeding on a sidewalk in West Philadelphia.

"That's good," said Carter, 60. "I'm glad it's dropped."
Robbery. Last time I checked, that was a felony. I guess Christmas came early for Alfred Carter. Thankfully, some people see this disgrace for what it is:
Dennis Bartlett, executive director of a trade group for private bail insurers, called the purging "probably the greatest act of general absolution in the history of the city."

"These perpetrators got away with it, basically," said Bartlett, a critic of Philadelphia's government-run bail system. "The citizens should be left breathless that in one fell swoop, the courts absolved thousands of people of crimes that they committed."
Is he wrong? Remember, these are not acquittals; they are complete dismissals of criminal cases. And the primary reason given is that the criminals fled town.
While the District Attorney's Office said it took pains to vet the dismissed cases and exclude violent offenses, The Inquirer's review found that serious cases were dismissed.
Wow, that is really shocking. You see, Philly? You can rob some guys, grope some women, and deal more drugs than Manuel Noriega all the live long day and get away with it. All you have to do is step outside the city limits, lay low for a while, and you're all clear.
This is one of the many reasons that detectives like me cannot stand this guy. If the people of this town knew about the other shenanigans going on in the D.A.'s Office, they would march there with torches and pitchforks. Obtaining an arrest warrant is near impossible under his regime. For example, in domestic assault cases, Williams wants a third-party witness to the assault before he approves a warrant. Where are you going to find a third-party witness when a man slugs his wife at 3am? You usually can't, and the warrant sits unapproved. Then, when the man ends up killing the wife, who do you think will be blamed for the unapproved warrant? Then again, even if the warrant is approved, the man will be exonerated by the D.A.'s Office eventually.
Seth Williams thanks you for your business.
Topics: Philly, The Job | 21 Comments »