By Wyatt Earp | November 13, 2010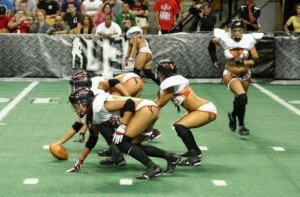 Pity Oklahoma City Mayor Mick Cornett. The man graduated college with a degree in journalism and spent time as a sports reporter and anchor, yet he doesn't realize the worth of a sports franchise – even if it's chicks in lingerie.
I know this is Oklahoma Freakin' City, but why would Cornett want to push away a money-making business? He does realize how bad the economy is, right?
The Lingerie Football League was looking toward expanding to Oklahoma City. The key word: Was.

Mayor Mick Cornett told media Thursday that he will not allow a team to play in Oklahoma City. The Lingerie League is made up of 10 teams that feature women playing tackle football in bras, panties and garters.
And really, who would want to pay money to see that? Idiots.
Topics: Babes | 6 Comments »