By Wyatt Earp | November 11, 2010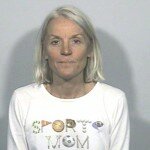 There is no doubt that law enforcement is dangerous work. I can tell you from experience that being a police officer puts a target on your back. People don't like to be arrested, and while some resist, others go out of their way to assault you.
I've been assaulted on the job more than a few times, but I have to admit: I have never been attacked like this:
Meet Carolee Bildsten. The Illinois woman, 56, is facing an aggravated assault rap after she allegedly struck a cop with a sex toy.

An officer from the Gurnee Police Department went to Bildsten's home last night to investigate a report that she had skipped out on a restaurant bill. While there, the officer was hit with a "rigid feminine pleasure device" wielded by Bildsten, according to a police commander quoted by the Chicago Tribune.
Okay, I'll begin: "Once again, a police officer gets the shaft."
Topics: The Job | 28 Comments »