By Wyatt Earp | October 20, 2010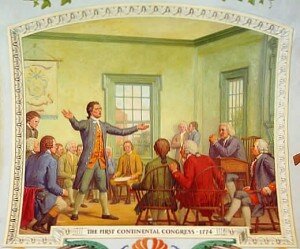 America's First Continental Congress had some radical new ideas that shaped a young nation. They also had some radical views that were not as publicized. Thankfully, I'm here to bring the knowledge.
October 20, 1774 – The new Continental Congress, the governing body of America's colonies, passed an order proclaiming that all citizens of the colonies "discountenance and discourage all horse racing and all kinds of gaming, cock fighting, exhibitions of shows, plays and other expensive diversions and entertainment." Since this proclamation included acting, dancing, singing, and the playing of music, all forms of entertainment and all theatre productions ceased.
Can you imagine? The Founding Fathers could have spared us from "Cats" and "The Macarena."
Topics: HHH | 14 Comments »