By Wyatt Earp | September 10, 2010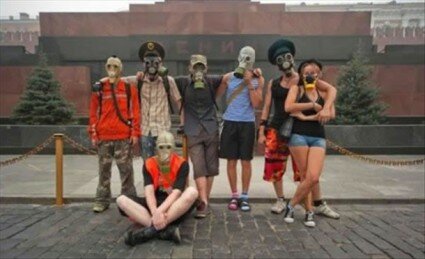 Moscow: It's A Gas Caption Contest
(Source: Break.com)
Submit your caption to this photo in the comments section, or e-mail me your photoshop entries. The winners will be announced on Monday, September 13th. Good luck!
Other Current Contests:
Cowboy Blob
Family Security Matters
Rodney Dill
RT's Ponderings
V The K
Wizbang
Top Five Entries:
5. Little known picture from the New Orleans Saints' archives, which displays the original headgear of the "Aints" before they decided to go with the plain paper bags. – Uncle Ray
4. Скача Jack внезапный газ, газ, газ, газ, газ, газ. (Jumpin' Jack Flash is a gas, gas, gas, gas, gas, gas.) – Bob (Either Orr)
3. They heard Snooki was going to be in town. – Darren
2. Eventually Darth Vader had to admit to a number of indiscretions that would cause him to say — "I am your father." – Rodney Dill
WINNER! – The Russian Synchronized Farting Team taking a break from training for the 2012 Olympic Games. - Bob G.
Topics: Caption Contest | 17 Comments »