By Wyatt Earp | September 4, 2010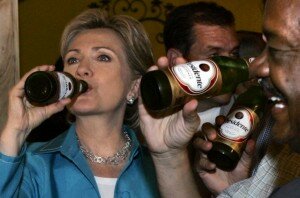 A Chicago dentist has paid for the first Hillary Clinton in 2012 ad. Really? A Chicago dentist? Anyway, I find it absolutely amazing that after only two years of Barack Obama I am ready for anyone to take his seat in 2012. Even Hillary Clinton.
Wow, I really need to get another cat scan.
You know it's been a long year and a half when you can sit back, watch a pitch for Hillary Clinton for president, and fool yourself into thinking that she (and her husband) looks like Reagan compared to Barack Obama:

We've still got two months left until the 2010 midterm elections, but we now have our first television commercial of the 2012 presidential campaign. And the ad advocates for a person who says she has no intention of running for the White House. The commercial was paid for by a Chicago dentist named William DeJean.

DeJean sunk some money into Hillary's efforts in the past, so what's a little more root-canal cash spent trying to ensure that the 3 a.m. phone call isn't answered with "we're buying shrimp here guys, call back later"?
Cankles in 2012! If you're interested, you can see the ad at the link.
Topics: Politics | 8 Comments »