By Wyatt Earp | September 4, 2010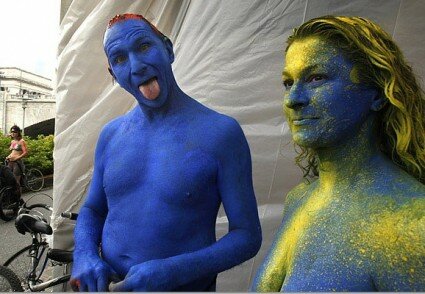 Ladies and gentlemen, start your jiggling!
Those naked bike riders who peacefully pedaled through Philadelphia last year are back for a repeat performance this weekend. Organizers of the Philly Naked Bike Ride have been promoting the September 5th event on the Internet, and praising Philadelphia police for their efforts last year.
Of course they're praising us. Our officers spent the day "carefully surveying the scene" for boobies trouble.
Several hundred riders were at last year's event and many weren't naked. But organizers worked with police to keep any incidents to a minimum and the ride was held on the Schuylkill River Trail. The event is intended to bring attention to bicyclists and raise awareness about fuel consumption.
And what would a naked ride be without smelly hippies? Summon the fire hoses!
Topics: Philly, Snarkasm | 10 Comments »