By Wyatt Earp | September 13, 2010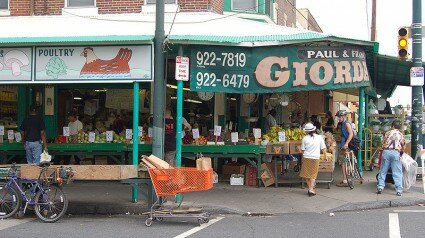 Philadelphia wants to charge bloggers a business license fee. They want to confiscate cupcake trucks because they parked in the wrong place. They want to fine churches because the bells are an "annoyance," while they watch a 19th Century church razed because they have no appreciation of history. Now they want to harass the vendors of the Italian market. I swear to God, this town does not know how to quit when it's behind.
Last summer, L&I began sending leaflets to businesses, giving 45 days' notice before one of the department's 28 business-compliance inspectors shows up at every doorstep on a block, Burns said.
Sadly, the enforcement is petty and unreasonable in my opinion.
Sonny D'Angelo's butcher shop was ordered to obtain a restaurant license, even though it is not a restaurant, because he is "preparing food" when he grinds his sausages. . .

Around the time L&I called on the cheesesteak shops about the seating, Health Department inspectors cited Joey Vento, who owns Geno's, for wearing "excessive" jewelry at his grill. The citation was dropped after a re-inspection, said Al Weiss, Vento's lawyer, who noted that Vento still sports his heavy gold neck chain and bracelet.

Councilman James F. Kenney said he had heard that an inspector threatened to cite C&D Appliances on Eighth Street for selling refrigerators off the sidewalk, even after workers protested that they were simply lifting them from a truck and moving them inside the store.
Wow. I dare someone to find a more business-unfriendly city than Philadelphia.
Topics: Philly, WTF? | 12 Comments »