By Wyatt Earp | September 13, 2010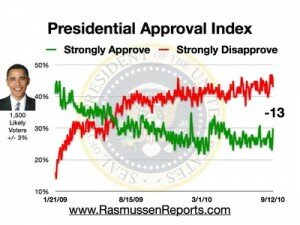 And the president wonders why he is getting numbers like these?
Barack and Michelle Obama have a very packed social calendar this week. They are hosting three parties, while the rest of us try to dig out of the recession. But hey, look at the bright side; at least they're in D.C., and not on another vacation.
On Monday evening, the President will welcome collegiate star athletes to the White House for a reception at 5:45 p.m. The annual event, first held by former President George W. Bush, recognizes outstanding student athletes in more than a dozen sports, including field-hockey, lacrosse, and volleyball. Neither of Obama's alma maters, Columbia University and Harvard University, made the grade.

On Wednesday the First Couple will don black tie for the annual Congressional Hispanic Caucus Institute gala, one of the more entertaining political galas of the Washington fall season. Hopefully the Obamas get some rest Thursday or Friday, because they will be back in formal wear on Saturday night for the Congressional Black Caucus Foundation's (CBCF) annual Phoenix Awards dinner. The dinner will mark the culmination of the foundation's 40th Annual Legislative Conference.
I wonder when the gala for the Congressional White Caucus will be held?
Topics: Politics | 9 Comments »