By Wyatt Earp | September 1, 2010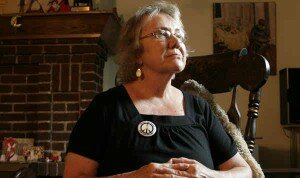 Think the end of the Iraq War will keep the protesters away? Think again:
On the last Friday of each month, Celeste Zappala joins like-minded others on a Center City street corner to wave signs that urge drivers to "Honk for Peace" and to show their opposition to the war in Iraq.

"It's a small event, and it may not have a lot of impact, but in my mind, it's important to be faithful to things you believe in," said Zappala, 63, of Mount Airy.

According to U.S. officials, the fewer than 50,000 troops remaining there will focus on training and assume a background role. But for Zappala, the fight is far from over. They'll be there, she said, until every troop comes home. She does it because it's what she believes, what she's always believed, since way back in the 1960s when she joined protests against the Vietnam War. She does it for her son, a National Guardsman who died fighting a war that his mother opposed from the start.
Okay, I want to make two points. First, I am very sorry for her loss. Her son obviously believed in fighting for the freedom of others, even if she does not. Second, and more importantly, Zappala lives mere blocks from the most crime-ridden area of the city. If she really believed in peace, she would be on Germantown Avenue spreading her message. Just sayin'.
Topics: Iraq, War On Terror | 13 Comments »