By Wyatt Earp | September 2, 2010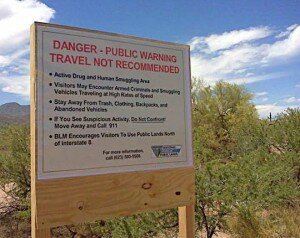 Oh, did I write "comes through?" I meant to write "Obama Gives The Big F**k You To Arizona." My bad.
Lost in the media stories about the National Guard's arrival in Arizona were a few minor details. Details like the strength of the Guard forces. Arizona asked for 3,000 troops. What they got was a lot less.
Pinal County Sheriff Paul Babeu said requests by Arizona law enforcement personnel and Sens. John McCain (R-Ariz.) and Jon Kyl (R-Ariz.) for 3,000 National Guard troops along the state's border with Mexico have been answered so far with 1 percent of that number deployed there this week.

"We have a whopping 30 [National Guard troops] this week that are showing up," Babeu told CNSNews.com. "It's less than a half-hearted measure designed to fail."

But the federal Bureau of Land Management (BLM) has placed 15 signs along a 60-mile stretch of Interstate 8 that links San Diego with Phoenix and Tucson warning travelers of drug cartels and human trafficking operations.
Awesome! Forget the border fence, we have warning signs now!
"DANGER – PUBLIC WARNING, TRAVEL NOT RECOMMENDED," read the signs placed along Interstate 8. "Visitors May Encounter Armed Criminals and Smuggling Vehicles Traveling at High Rates of Speed. Stay Away From Trash, Clothing, Backpacks, and Abandoned Vehicles. BLM Encourages Visitors To Use Public Land North of Interstate 8," the signs say.

"I think the American people are outraged that we can fight wars half-way around the world, send our nation's treasury and our most precious resources – our American heroes that serve in the military — and yet here in our own country somehow they believe it's okay for us not to have a secure border," Said Sheriff Babeu. "And that it's okay to put up signs in my county and parts of America to surrender parts of our country to foreign born criminals," Babeu added, "warning our own American citizens to stay out."
Is he wrong? The president has basically conceded the border and parts of AN AMERICAN STATE to the drug cartels! No attempt at enforcement, no attempt at defense, no attempt to honor the oath this man took on January 20, 2010. Why? Because he couldn't care less about the health and welfare of Arizona and its citizens.
You gotta figure that by 2012, the Mexicans will control all of Arizona . . . and most of the American southwest.
Topics: Illegal Immigration | 19 Comments »