By Wyatt Earp | September 1, 2010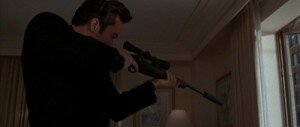 I've always liked John Cuscak's films. Grosse Point Blank and Better Off Dead are two of my all-time favorites. So it pains me to see the man suffer through serious mental illness. And make no mistake, anyone who goes off like this has some serious issues.
Note to the TSA: You might want to check Johnny for weapons before he boards a flight. You know, just sayin'.
Another shining example of leftard/liberal tolerance. They'll tolerate free speech and opinion, until you disagree with their idiocy. Then again, this asshole hasn't had much by way of success since 1999 (Being John Malkovich was pretty funny). I guess like Janet Jackson with the 'wardrobe malfunction' he wants any publicity he can get. That or he has simply finally gone off the deep end:

Actor John Cusack went on a caustic Twitter rampage Sunday evening, attacking former House Majority Leader Dick Armey, former House Speaker Newt Gingrich and Fox News.

"I AM FOR A SATANIC DEATH CULT CENTER AT FOX NEWS HQ AND OUTSIDE THE OFFICES ORDICK ARMEYAND NEWT GINGRICH-and all the GOP WELFARE FREAKS," Cusack tweeted.

Cusack has long been outspoken about politics. He supported Barack Obama in the 2008 presidential election and has contributed to The Huffington Post, but this is the first known time he has stooped to the level of making threats.
Dude, if you're gonna make a veiled threat you should at least spell check it first.
Topics: Wyatt's Wisdom Nuggets | 21 Comments »