By Wyatt Earp | September 12, 2010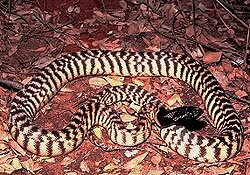 You could go blind that way!
Okay, it's not double-entendre, but it's chock full of teh stupid. Two Australian men decided to steal a five-foot long snake and while making their getaway they decided to stop in front of a packed McDonald's restaurant. Because, you know,
MELBOURNE, Australia – Two men were arrested after bewildered diners at a McDonald's spotted them wrestling a 5-foot python named Boris in the restaurant parking lot, police said Thursday. Victoria state police said the men stole the 8-year-old black-headed python and a lizard from a pet shop on Wednesday. They then brought the snake to the McDonald's parking lot, where they began wrestling with it in front of puzzled customers, police said.

The men, aged 22 and 24, were arrested and charged with burglary and theft. Police didn't release their names.
The men will most likely learn "wrestling the python" has a new meaning in prison.
Topics: Evil = Funny | 4 Comments »