By Wyatt Earp | September 12, 2010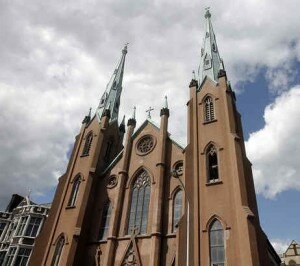 The Philadelphia Historical Commission: now there's a contradiction in terms.
The Philadelphia Historical Commission cleared the way Friday for the demolition of a landmark Spring Garden Street church whose sanctuary nurtured the city's two most notable Roman Catholic saints, John Neumann and Katharine Drexel. Built by the noted church architect Patrick Charles Keely, the Church of the Assumption was consecrated by Bishop Neumann in 1848. Drexel was baptized there a decade later.

The commission agreed to allow the demolition after its nonprofit owner testified that it was financially incapable of making crucial repairs to the green copper steeples. The 6-5 vote marked the latest defeat in Philadelphia's struggle to retain its stock of spectacular, but underused, 19th-century religious buildings.

When the commission deadlocked, 5-5, on the issue, Chairman Sam Sherman, who normally does not vote, cast the deciding ballot in support of demolition. Sherman, a developer, recently completed a successful market-rate rowhouse project just two blocks north of the church.
So a developer cast the deciding ballot to have the church razed? No shenanigans there.
You know after the blogger tax, the cupcake fiasco, and the proposed fining of the church bells, I don't know why anyone would want to come to Philadelphia. Please folks, stay home and save your spending money for a city that truly deserves it.
Topics: Philly, WTF? | 20 Comments »