By Wyatt Earp | August 7, 2010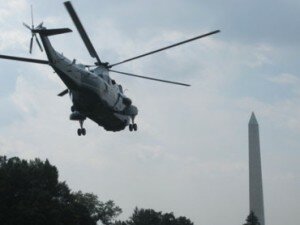 Barack Obama took Marine One on a trip across town to make a speech yesterday. Seriously.
The economy is in the toilet, right? People are struggling to make ends meet, right? The administration is all about being "green," right? Then why the frak would this jackass take a helicopter for a six mile trip?

President Obama Friday flew Marine One from the White House less than six miles to Northwest D.C. He choppered to Gelberg Signs, the Washington, D.C.-based company where he'll deliver remarks on the economy and July employment numbers. According to Google maps, the drive would have taken about 20 minutes from the White House.

By CBS News' Mark Knoller's count, this is the president's 300th flight on Marine One.

As to why the president choppered to a company in D.C., spokesman Bill Burton said, "Probably because it's an easier than a motorcade through the city in the middle of the day."
Is that the excuse they are going with? Because it is idiotic.
Will someone please hit me with some knowledge? Is Barack Obama really that ignorant and clueless about what people are going through, or does he just not care?
Topics: Politics | 14 Comments »