By Wyatt Earp | August 7, 2010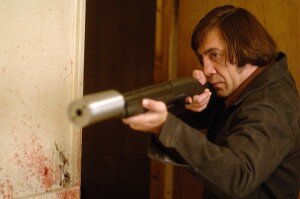 Apparently, the Oscar Award winner wants to appear on the FOX hit.
Don't count Javier Bardem out of "Glee" just yet.

Despite a Tweet from "Glee" executive producer Dante Di Loreto last month which suggested that the Oscar-winner's casting on the show was just a hopeful rumor, creator/writer/director Ryan Murphy told Access Hollywood's Billy Bush that the Spanish actor is definitely in – if they can make schedules work.

"I went up and I congratulated him about his very pretentious Best Actor Award at Cannes, because he wins those things, and he said, 'I don't want to talk about that, I want to talk about 'Glee,'" the "Eat Pray Love" director told Billy. "And I said, 'What do you mean?'"

Ryan went on to explain that Javier was the one who approached him with the idea of guest starring on the hit FOX television show.
With any luck, he will appear as Anton Chigurh, and wipe out the entire cast.
Topics: Snarkasm | 6 Comments »