By Wyatt Earp | August 27, 2010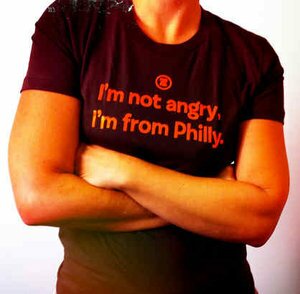 I have a pretty bizarre pet peeve that will probably irk some of you. I hate people who say that they're "from Philly," when they live in the suburbs or in New Jersey. My best man was like that. South Jersey born and bred, but told everyone he was from Philly. Shut up, dude; you're from Jersey. You know nothing of my town.
Unless you were born, raised and/or currently live here, you're not from Philly. You're from somewhere else. Stake a claim to your own dysfunctional municipality, but don't claim mine.
It takes a special kind of dope to live in this town and deal with the other jackasses. The jackasses who actually take pride in their white trash and/or rapper thug lifestyle. The jackasses who riot when a sports team wins a title. The jackasses who think being from Philly gives you license to be an arrogant, ignorant tool.
The jackasses who will rush out and buy this thing:
Mike Monteiro grew up in Olney and attended Holy Child on North Broad, Central, Temple's Tyler School of Art. Then, as many creative types are wont to do, he fled West. In California, the Web designer noticed people are, well, different. They adopt a decidedly more placid approach to life in the Golden State. At the DMV, which can bring out the ornery in people and Philadelphians in particular, the San Francisco clerk inquired: "Why are you so angry?"

To which Monteiro answered, "I'm not angry, I'm from Philly."

And with that, a slogan, a T-shirt and, dare I add, a cosmic world view and fundamental genius understanding of human behavior were born.
It is simply unbelievable how the people of this town celebrate their own douchebaggery. It's not a badge of honor, you morons; it's a scarlet letter.
Topics: People I Hate, Philly | 23 Comments »