By Wyatt Earp | July 20, 2010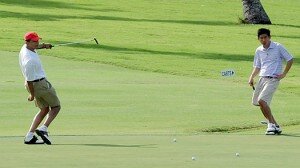 President Obama's offshore drilling moratorium may make his liberal base and the environmentalist whackos happy, but his smug sense of self-satisfaction will bite him in the arse. Especially since the economic loss that the region will suffer is expected to be catastrophic.
The presidential offshore drilling moratorium will cost approximately US $2.1 billion in economic loss to the states along the Gulf of Mexico (GoM) in the first six months, according to a recently released paper.

"The Economic Cost of a Moratorium on the Offshore Oil and Gas Exploration to the Gulf Region" was written by Dr. Joseph R. Mason, Louisiana State University endowed chair of banking and renowned economist. Mason said he estimates the moratorium will see a loss of 8,000 jobs and $500 million in lost wages in the Gulf Coast in the first six months.

"The moratorium will cost the Gulf Coast region jobs, money, and economic development," he said. "In fact, the moratorium could be more costly than the oil spill itself."
It's bad enough that the president is not treating the oil spill seriously. His knee-jerk reaction is – as expected – making things much worse.
Topics: Politics | 12 Comments »