By Wyatt Earp | July 11, 2010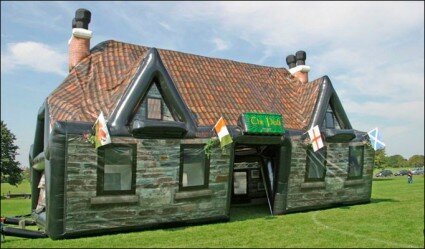 Just in time for the World Cup Final!
The traditional English pub has truly earned its name as the nation's local — with the launch of this inflatable boozer you can blow up in your garden.

There are four different watering holes available in different sizes holding between five and 50 punters. The larger 'Hogshead' pub stands at 26ft tall and 15ft wide and will set you back £27,815. Even the more compact 'Firkin' costs upwards of £4,275.

Drinkstuff boss Paul Lochhead said: "So far we have had a great response from domestic and trade customers to the new inflatable pub range.
You can check out the company's website HERE.
Guys, I don't ask for much from you, but my birthday is in April. That should be enough time for you to take up a collection. I'm just sayin'.
Topics: Al-key-hol, Coolness! | 13 Comments »