By Wyatt Earp | July 11, 2010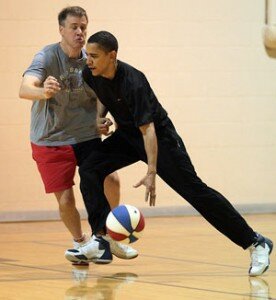 Because, you know, there aren't much bigger issues in America today than whether or not the president will be able to play hoops with LeBron James.
I'm sorry, but I have to ask this serious question. Does Obama even want to be POTUS? I mean, he obviously likes the perks and the ego-stroke of the unlimited power, but he just doesn't want to put the work in. He likes the idea of saying he's the president, but he wants someone else to make all of the decisions and take the grief for his countless mistakes.
Washington (CNN) – White House press secretary Robert Gibbs left open the possibility Sunday that President Obama could take a turn on the hardwood with NBA super star LeBron James.

"Look, I can only imagine if the president had an opportunity to play against LeBron James, he would take it," Gibbs said on NBC's "Meet the Press."

"I don't know that we would make the game public or the outcome or the score public because let's just say somebody [like James] who is 6-foot-8, quite that size, starts with an advantage that is hard for the president to make up.

This, of course, was in answer to the question "how much more tone-deaf can the president appear?" The unemployment rate is at 9.5%. America is fighting two wars. Tens of thousands of barrels of oil are still flowing into the Gulf of Mexico. The economy is still in the toilet.

Don't worry, though. Obama will deal with the nation's problems soon.
You know, if I were president – never happen, what with the dead hookers and all – during such trying times and I tried to set up a hockey game with Sidney Crosby, I would expect to be tarred and feathered. Obama? He would think it is a non-issue.
The man is so out of touch it's insane.
Topics: Politics | 12 Comments »