By Wyatt Earp | July 4, 2010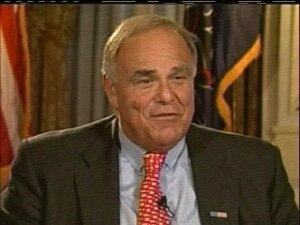 Perish the thought. Especially not an affair with a female state employee!
On the same day Philadelphia Magazine hit newsstands with an article speculating about his relationship with a female state employee, Governor Rendell told the Patriot-News of Harrisburg that he was "ready to get out" and that he's "had it with the media."

As to the former comment, Rendell says he did not intend to suggest that he's checked out of governing:

"I said that I was ready to go, not that I'm 'checking out.' I think that I'm as engaged as governor as I've always been. I prided myself as mayor of Philadelphia that I was working hard the Sunday before the Monday that I left and I will do so for that taxpayers here."
Rendell, of course, told Philadelphia Magazine that he was not having an affair. We should believe him because, you know, the man is such an honest, trustworthy politician. To quote Dr. Evil: "Riiiiight."
For me, the only shocking part of this story is that the Philadelphia media is actually covering the rumor. I guess that since Rendell is nearing the end of his term, they don't feel the need to protect him anymore. The Guv has a lot of secrets, and since he lives in my division, I've heard them all. The sad part is that most of the Philly media have known them for years, but swept them under the rug to keep the powerful Democrat's reputation intact.
Sooner or later, an intrepid reporter will write a book about the real Ed Rendell. It'll be a juicy read. If you only knew . . .
Topics: Philly, Politics | 15 Comments »