By Wyatt Earp | July 4, 2010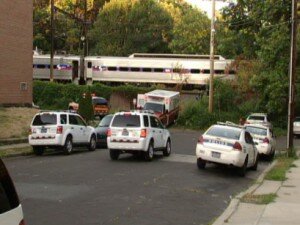 So, how did you spend your Independence Day Eve? I'm guessing you had a better time than we did in the division, because we were not only very busy – summer nights will do that – but we also had to handle a terrible call. After spending six years in a district with an elevated train, five years in a district with Amtrak rails, and five years in a division with local rails, it's a call I've seen far too often.
A Septa train hit and killed a person as they walked along the tracks south of the Fern Rock station Saturday. Police say an individual was struck and killed by a southbound train around 7:20 p.m. Officials say all passengers on board the train were bussed to Center City.

Police are working to identify the victim.
Crimes scenes like these are absolutely terrible. I mean, you really have no idea. The victim is a white male, probably in his 50′s, with gray hair. He was wearing a white baseball cap and blue jeans. He did not have identification on him. If you think you know the victim, please call Philadelphia Police at 215-686-3352, or 215-686-3353.
Topics: True Detective Stories | 15 Comments »