By Wyatt Earp | July 9, 2010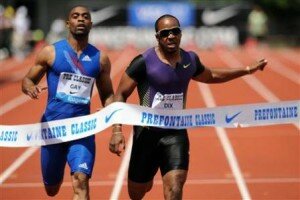 Are you ready? Here it is:
TIRED GAY SUCCUMBS TO DIX IN 200 METERS
Olympic bronze medalist Walter Dix edged out Tyson Gay in the former world champion's hotly-anticipated return to the 200 meters at the Prefontaine Classic Diamond League meeting on Saturday.

Dix, who won the 100 meters and placed second at the U.S. nationals last weekend, said his race experience had helped, "but I'm a little beat up, too."

"I was a little sloppy out of the blocks, but I was able to hold on," he added. "Tyson gave me great competition."
What can I possibly add to this? The funny just writes itself, kids.
Topics: Evil = Funny | 17 Comments »