By Wyatt Earp | June 1, 2010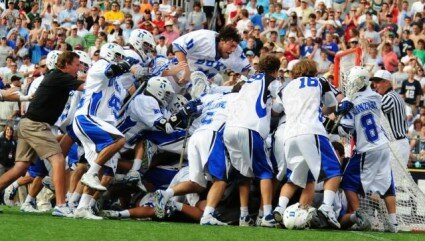 Duke Blue Devils: 2010 NCAA Division I Mens Lacrosse Champions!
Sophomore defenseman CJ Costabile scored five seconds into overtime to give Duke University its first national lacrosse title with a 6-5 victory over the University of Notre Dame.

Costabile took the opening faceoff in overtime and ran right at the Notre Dame goal, unleashing a shot that got past goalie Scott Rodgers for the victory.

Duke's triumph came four years after a scandal led university president Richard Brodhead to cancel most of the team's 2006 season. Three players were charged with rape in the alleged sexual assault of an exotic dancer after she performed at a team party. All charges later were dropped and the prosecutor in the case was disbarred.

"It's a culmination of four years for the seniors," Duke coach John Danowski said in an on-field television interview. "It's a win, and it just means the world that these guys can share in this."
This was a fantastic game: great goaltending, terrific defense, and an awesome overtime finish. The boys and I , and were glad we did.
Topics: Lacrosse | 3 Comments »