By Wyatt Earp | June 20, 2010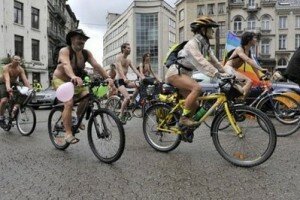 Apparently they are tired of politicians waffling on the traffic issue. .
Cyclists stripped naked and braved the elements in Brussels Saturday for the annual two-wheel nude demonstration "cyclonudista" against car traffic in cities. Wind and rain battered down on some 50 bare-bottomed Belgians, and police stopped two stark naked protesters for infringement of decency before quickly releasing them after friends circled the police vehicle.

"The nudity has allowed the protest to gain visibility in the media," one of the organisers Jerome Nature said. "You need to be seen to be heard."

The cyclists were protesting over "public space being monopolised by cars, which impose their law on us: aggression, speed, danger and pollution, transforming cities into hostile places," he said.
Lousy hippies. The one group of people no one wants to see naked.
Topics: Snarkasm | 4 Comments »