By Wyatt Earp | May 30, 2010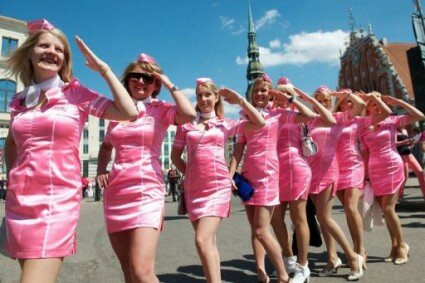 Say you're a country that's down on its luck. What do you do to lift the nation's spirits? You call for the blondes, of course!
Decked out in pink, their locks glinting in the sunshine, hundreds of blondes marched arm-in-arm through the Latvian capital Riga Saturday, in a bid to raise spirits in the slump-stricken Baltic state.

Tourists and locals marveled as more than 800 blondes wove their way through the streets for the second edition of what organizers say they hope will become a regular annual event.

"I feel very good to be surrounded by so many beautiful women. It's great to be blonde," local student Linda told AFP.
Wow, the march of blondes is much more upbeat than the March of Dimes. I'm just sayin'.
Topics: Coolness! | 9 Comments »