By Wyatt Earp | May 24, 2010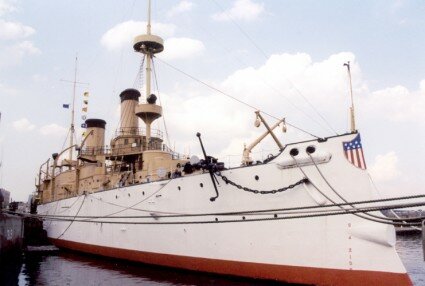 As much as I would like to believe otherwise, Philadelphia will forever be a second-class city. Stories like this one will see to that.
The old warship has been part of Philadelphia's waterfront for 50 years and left lasting impressions on thousands of visitors who heard gripping stories of its role in the Spanish-American War.

Now the Olympia – the last surviving vessel from that 1898 conflict – could face an ignoble end as an artificial reef off Cape May if a new benefactor cannot be found.

The Independence Seaport Museum and the Navy have already checked with officials of New Jersey's Artificial Reef Program on the possibility of sinking the ship, once a source of national pride.

"Another option would be scrapping Olympia," said James McLane, interim president of the museum, which owns the ship and is adjacent to it at Penn's Landing. "But the Navy has told us that 'reefing' is better because it would allow divers to go down on it and would preserve Olympia."
While you're at it, you might as well scrap the city, too . . .
The museum can no longer afford the ship's upkeep, McLane said. At least $20 million is needed to tow, restore, interpret, and endow the deteriorating vessel. The ship will be open until the end of September, then closed while its future is determined, McLane said.
I guess they'll just let it sit there and rot. Not that anyone cares. It's not like the cruiser has an awe-inspiring history:
The Olympia was authorized in 1888 and commissioned in 1895. The state-of-the-art vessel led five other U.S. warships into Manila Bay in the Philippines on May 1, 1898, and fired shots in a battle to wrest control of that country from the Spanish.

Navy Commodore George Dewey stood on the bridge of the ship and uttered the famous words: "You may fire when you are ready, Gridley."

Under Dewey's command, the U.S. fleet destroyed 10 Spanish cruisers and gunboats in hours without losing an American life. The Olympia spent World War I in the Atlantic Ocean, and brought remains of the Unknown Soldier home from France in 1921.
If we lose the Olympia, every person in this city should be ashamed of themselves. Letting a piece of history slip away for nothing? It's a damned disgrace.
Captain America has his take on the subject here.
Topics: Philly | 17 Comments »