By Wyatt Earp | May 26, 2010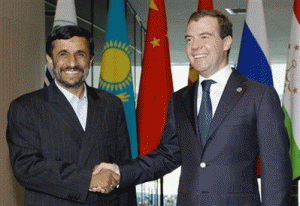 Aww, Iran and Russia are having a lover's spat. The nations are at odds because Russia has agreed to UN sanctions against Iran relating to their nuclear program. Perhaps Russia, an Iranian ally, finally saw the sense in standing with the rest of the world against Mahmoud Ahmadinejad's murderous regime.
Or maybe the Russians figure if they support the sanctions, there will be something in it for them. Either way, it's great watching them clash swords. I'll get the popcorn!
In unusually strong criticism of Russia, President Mahmoud Ahmadinejad admonished the Kremlin for bowing to what he said was U.S. pressure to agree on sanctions and bluntly warned President Dmitry Medvedev to be more cautious.

"If I were the Russian president, when making decisions about subjects related to a great nation (Iran) … I would act more cautiously, I would think more," Ahmadinejad said in a televised outdoor speech.

Within hours, the Kremlin's top foreign policy adviser dismissed Ahmadinejad's criticism, telling the Iranian president to refrain from "political demagoguery".

"No one has ever managed to preserve one's authority with political demagoguery. I am convinced, the thousand-year history of Iran itself is evidence of this," Sergei Prikhodko said in a statement read out by a Kremlin spokeswoman.
Personally, I think Iran's honor is being challenged. If they had any balls they would launch a full-scale attack on Russia. Or are you too much of a puss-aah, Ahmadinejad? Heh.
Topics: Politics | 10 Comments »