By Wyatt Earp | February 22, 2010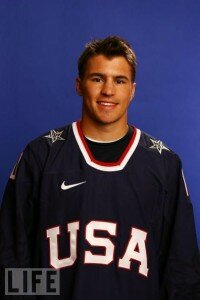 In a (probably futile) attempt to keep my female readers happy, I am posting a few pictures of the more attractive Olympic guys participating in the Vancouver Games. I cleared these with one of my close female friends, but I am sure they won't please everyone. First, we have 25-year old New Jersey Devils and Team USA star forward Zach Parise (above):
Zachary Andrew Parise (born July 28, 1984) is an American professional ice hockey player and an alternate captain of the New Jersey Devils of the National Hockey League (NHL) and the US Olympic Team for the 2010 Winter Olympics. In his breakout 2008–09 season, Parise was the league's third leading goal scorer (45) behind Jeff Carter with 46 and league leader Alexander Ovechkin with 56, while ranking fifth among all NHL players in points with 94.
There are more athletes below the fold.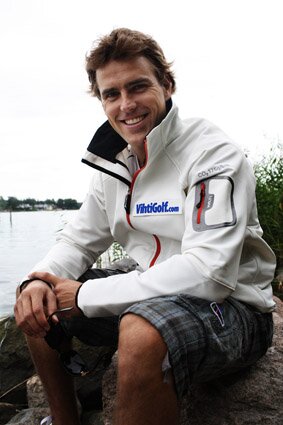 The next contestant is Jukka Leino, a 31-year old Alpine skier from Finland:
Jukka Leino, from Heinävesi Finland, has always maintained a talent for sports. As a little boy Leino took part basically into every sport, focusing to football and bandy. At the age of three Jukka Leino got his first skis and immediately fell in love with the sport.

As junior Leino almost had to give up skiing, because of his small physical size. Jukka wanted to put all possible effort to skiing and decided to go to Ruka Alpine-school. After graduating Leino stayed in the same premises and joined the Alpine academy. With a lot of time spent on four wheels and in alpine races Leino basically completed his studies through the Internet. Year 2003-04 Leino served in military, in Lahti, Finland.
Rugged good looks, just like me. Of course, I can't even stand on skis, so . . .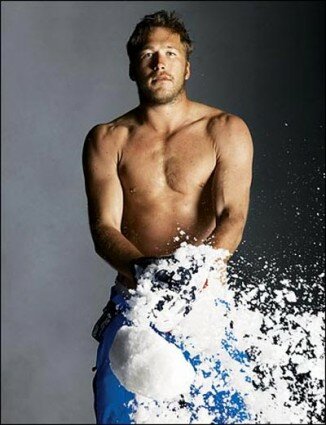 Finally, we have 32-year old American skier – and Vancouver gold medalist – Bode Miller:
Samuel Bode Miller (born October 12, 1977) is an American alpine ski racer. He is an Olympic and World Championship gold medalist, as well as a two-time overall World Cup champion, in 2005 and 2008.

In 2008 he and Lindsey Vonn helped the United States sweep the men's and women's overall World Cup titles for the first time in 25 years. With 32 World Cup victories, he is the most successful American alpine skier of all-time. He became the fifth man to win World Cup races in all five disciplines: slalom, giant slalom, Super-G, downhill, and combined.
Miller kind of strikes me as a tool, but Lord knows I like a lot of hot babes that are vapid idiots. I don't know if being a dope is an instant deal-breaker for the ladies, though. Either way, I figured it might be a decent photo for some of you.
So, there you have it. Hope you gals enjoyed the post, and if you didn't, I'm sure you'll let me know. Heh.
Topics: Hotties | 12 Comments »